Profile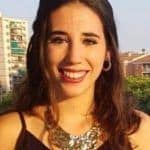 Aina Roca Barcelo
My CV
Education

University Autonomous of Barcelona (Spain)

Qualifications

Bachelor's Degree in Biomedicine / Master's Program in Health Promotion

Work History

When I was 16 until 19 years old I worked as roller-skater trainer ⛸🛹. While studying my university years, I was working in a cancer laboratory in Bergen (Norway), and then one year in a Cancer Registry in Girona (Spain). And now it has been 2 years since I moved to London to work in Environmental Health at Imperial College

Current Job

Research Assistant in Epidemiology

Name of MRC-funded unit/centre/institute:

MRC-PHE Epidemiology and Biostatistics/Public Health

My university:

Imperial College London
About Me:

Science lover /Traveller/ Adventurous / Bookworm

Read more

I live in Paddington (and yes, sometimes I go for a cup of tea ☕ with Paddington bear and Mrs Brown). I live in a really bright and nice flat with two friends and a lot of flowers and plants 🌿🌺🌸🌴🌳🌼🌲(maybe I should call it jungle instead of flat!? 🤔).

I love climbing things (just like a monkey🐒) as much as I love travelling and knowing other cultures. This is why, whenever I have a few days free, I go on adventures to explore new places 🗻🏕🏞🌅and do some CLIMBING🧗‍♀️!

My Work:

I investigate how characteristics of the environment, like changes due to climate change, have an effect on people's health

My Typical Day:

I look at information about the quality of the air, changes in temperature or increased number of flooding for example, and the health of the people and try to see if they are related

Read more

First and foremost, a strong morning coffee ☕ and some chocolate to energize me for the day!

Then, I usually spend the morning organizing meetings, answering emails and writing comments or articles. Most days, I also meet with my colleagues to discuss some projects and share ideas. It is really interesting to listen to what they think and together we try to make the project better! Teamwork at its best!💪

I often spend the afternoon doing the fun part which is analysing the data. This are thousands and thousands of lines of information, both about the environment and people's health. I spend time investigating the data and trying to find the best way to analyse it. Sometimes I feel a bit like Sherlock Holmes🕵️‍♀️).

Ohh and let's not forget about the ARTY bit! 🎨Despite most people think that science is not artistic they are wrong! I spend a lot of time getting creative on how to show my results in a fun and interesting way. This includes drawing maps and fun plots (some of them 3D!).

Read more

Art. Nature. Science. The 3 loves of my life. So why not bring them together?

What I suggest is the following…

Greenspace is beneficial for our health, from improving the air we breath to our mental health and wellbeing. It is also a great platform for active transportation, physical activity and community bonding. But not only it has positive impacts on people's health but it can laso help regulate temperature and water flow in urban settings and reduce energy consumption of buildings. There is an increasing number of published research showing this… it is time to integrate this into our urban planning! As a consequence, architecture is taking a whole new dimension with a new wave of architects promoting structures that try to minimize the impact on the environment (sustainable architecture) and at the same time be in harmony with it (organic architecture).Countries like Denmark are pioneering in their integration in the design of their cities.

Here, I propose that students take the lead and re-imagine the urban design paradigm in the UK. They will do this through a full-on day of activities. In the morning, they will be presented with a few architecture/urban design challenges. This may include the design of a school in a highly polluted road or the need for an elderly centre in a rather urbanized area. Each group of 3-4 will be assigned to one of the challenges. Once assigned to a challenge, we will give them some extra information on the issues of the area, from the socioeconomic characteristics and demographics of the population, to the type of landscape typical to that area, health issues people face as well as the resources available for the project. In groups, they will assess the needs and resources available for the project and agree on a design which  will need to serve for the public purpose given,  have a minimal impact on the environment and be in harmony with it, maximize the health benefits both through its design and materials. In the afternoon, they will be introduced to different softwares to help them visualize their designs. At the end of the session, they will pitch their project in front of their colleagues and the best project will be voted.

This activity illustrates the co-benefits of actions/plans across different sectors, in this case health and wellbeing, housing and environment protection. This will hopefully help raise awareness on the need to develop projects cooperatively and considering the impact of these co-benefits. This is of special relevance in the context of climate change policy. The integration of this into a more artistic challenge such that of designing a building, makes it more appealing and gives students the opportunity to get creative while still being rigorous and conscious of their design choices.
My Interview

How would you describe yourself in 3 words?

Curious. Adventurous. Perfectionist.

What or who inspired you to follow your career?

Jane Goodall - a strong, incredibly smart, passionate, committed woman and a ecology activist. Definitely a role model!

What was your favourite subject at school?

Natural Sciences - I loved learning about animals, plants, planets...

What did you want to be after you left school?

A doctor

Were you ever in trouble at school?

Yes... as I said I love climbing things so... I may have climbed a tree (or a few) when I was told not to! Ups

If you weren't doing this job, what would you choose instead?

I would love to be a mountain guide🏔 and spent all my time outdoors. Otherwise, a painter🎨"... Wait, why not both!?

Who is your favourite singer or band?

Pink - She showed the world that girls don't necessarily need to be delicate princesses to succeed, they just need to be (and to love) THEMSELVES!

What's your favourite food?

Cheese🧀

What is the most fun thing you've done?

Skydiving (I told you, love seeing things from above!)

If you had 3 wishes for yourself what would they be? - be honest!

Worry less and act more / Spend more time with my beloved ones / Do more the things I love

Tell us a joke.

I was reading a book on helium, and I couldn't put it down!
My profile link:
https://ias.im/u.212933
---
---