Profile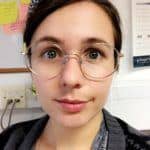 Ambre Chapuis
My CV
Education

France school and university (2 years)

Qualifications

BSc(hons) in molecular biology and MSc in microbiology

Work History

I did a lot of small part time jobs while studying to pay for my education

Current Job

Name of MRC-funded unit/centre/institute:

MRC centre for medical mycology

My university:

University of Aberdeen
About Me:

final year PhD student trying to make glowing fungi

Read more

I am French leaving in Aberdeen now for 6 years. I live with my two cute pet rats and a little hamster. I use to play Rugby at high level in France but now my job took over. I always had a passion for science and animals. I made my goal as a researcher to found solution to reduce animal experiment and focus on research for them and not on them :).

My Work:

Mycology scientist who try to make glowing fungi for mice model.

Read more

During my PhD I am trying to make a fungi that is capable to glow independently. why?…

With this new fungi we could use it to understand how the fungi infect a body by using microscopy. With the help of microscopy technique we could reduce the number of animal tested. And have a better understanding of what is happening with the fungi.

My Typical Day:

tea work tea bed ….

Read more

I start my day by a 30 minute walk from my flat to the lab. I come to my desk and check my mails and look at the planning of the day. Most of the time the experiment that I do demand so resting time. So wile waiting I am writing down and look at my data with some nice cup of tea ( I drink a Lot of Tea). Some day I finish early and some day very late depend on the experiments working or not (most of the time I finish late (-_-) ).

Read more

This money will help me pay for attending in a conference in my field that I am very excited about. Money run low fast in science unfortunately, there is always new experiments to carry out. As I am very curious, I want to investigate any little part of the microorganism that I am studding and that required more  funding.
My Interview

How would you describe yourself in 3 words?

Resilient, passionate, Nerdy

What or who inspired you to follow your career?

My supervisor Donna MacCallum

What was your favourite subject at school?

Biology

What did you want to be after you left school?

I wanted to become a vet before discovering research

Were you ever in trouble at school?

No, I was kind of an Hermione Granger

If you weren't doing this job, what would you choose instead?

open a vet practice for unusual animals with my bestfriend

Who is your favourite singer or band?

ghost ( metal group)

What's your favourite food?

Cheese (I stay with my french stereotype)

What is the most fun thing you've done?

Trekking in the Malasian jungle with my bestfriend

If you had 3 wishes for yourself what would they be? - be honest!

1. That I am a wizard and not a muggle 2. I could play all instruments 3. that my PhD work hahah

Tell us a joke.

I was reading a book on helium. I couldn't put it down.
My profile link:
https://ias.im/u.212939
---
---