Profile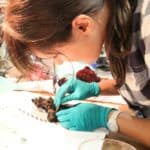 Anabel Martinez Lyons
Curriculum Vitae
Name of MRC-funded unit/centre/institute:

MRC Mitochondrial Biology Unit

My university:

University of Cambridge

Education

Frankfurt International School (Germany), King's College London (UK), Imperial College London (UK), and the University of Cambridge (UK)

Qualifications

Bachelor of Science in Human Molecular Genetics (BSc), Masters of Research in Biomedical Sciences (MRes) and (almost) a PhD in Biological Sciences

Work History

I've worked as a researcher in several labs, and have also been a tutor and a waitress in London (but wasn't very good!)

Current Job

PhD Student
Favourite thing to do in my job: I love learning the cause of a disease in a human child by looking at the brain and hearts of mice that we've designed to copy the patient's disease.

About Me: I'm a final-year PhD student at Cambridge University - in the past, my research has taken me all the way to Fiji, where I got to drive a robot submarine like the one that discovered the Titanic!

Read more

Hello..! I'm Anabel – I'm half English/half Spanish, and grew up in Massachusetts, USA. I love all things outdoors: rock climbing, hiking, snowboarding, and rowing!

I've also been making pottery for several years and am close to finishing an entire tea set ☕, which I'm excited to use for the first time!

I currently live in Cambridge, UK, but my family (mum, dad and 4 siblings) still live in America… we have 6 chickens that lay eggs every morning , and a cockatiel named Popcorn.

My Work: I study a rare group of diseases called "mitochondrial disorders", and to do this, I look at changes in the brains, hearts and muscles of mutant mice to better understand what is going on in human patients.

Read more

I'm currently in my final year of a PhD at Cambridge University, studying why some children develop a rare group of diseases called "mitochondrial disorders". These happen when our cells can't make enough energy to function properly. I look at changes in the brains, hearts and muscles of mice that are missing some important parts of our cells' energy-making machinery to better understand what is happening in human patients with mitochondrial disorders.

Before this, I worked in a lab that looked at "marine biodiversity", or the range of traits we see in different sea animals. Think how different an octopus is from a shark, or a shrimp from a jellyfish! I joined a group of scientists on a research expedition to the southern Pacific, where we studied the animals that lived in deep-water volcanic ecosystems, and I even got to drive (for a few minutes) a multi-million £ submarine robot to explore the ocean floor, like the one that discovered the Titanic..!

Being a scientist can take you to some amazing places! 🏝

My Typical Day: I do different things every day! Sometimes I work in the lab, sometimes at the computer and sometimes I do experiments with live mice in the animal facility.

Read more

I do a lot of "bench work", meaning experiments that require me to follow a precise method with special scientific equipment… I also analyse data on the computer some days, and spend about one day every week in a special animal facility to perform experiments on mice.

What I'd do with the prize money: Hands-on research in classrooms! I would hope to run DNA extraction experiments for students so they can witness DNA's presence and importance in all living things.

Read more

I want to use the prize money to get grade-school students (especially girls) to perform first-hand DNA-extraction experiments – by following specific protocols and methods in a scientific way, they can better understand the relationship between a living thing and its recipe for life, DNA.

What made me fall in love with research was a wet lab-based summer camp I attended when I was 14, and actually seeing DNA and protein pellets during experiments. Instead of only learning theoretical science in a classroom setting until the later years of school, I'd love to get students of ages 10 and up to do some hands-on work themselves that could excite them to know more about living things at their most basic level, DNA! I'd love to do a practical workshop where students extract DNA from plants, particularly fruit, and then through video show them how plant DNA differs from our own (and highlight any similarities as well). The money would be for the kits and supplies and to develop a video showing what the technique is doing step-by-step and a bit of the background of what DNA is and is used for. I hope this will excite students to want to do more practical science later on!

My Interview

How would you describe yourself in 3 words?

Happy, hardworking, curious

What or who inspired you to follow your career?

My biology teacher in high school, Mr. Williams

What was your favourite subject at school?

Biology (but before that art and maths)

What did you want to be after you left school?

A scientist

Were you ever in trouble at school?

No, not that I can remember! (but this is probably a better question for my teachers! :-P)

If you weren't doing this job, what would you choose instead?

If I weren't a scientist, I'd like to work in a hospital in some way (as a doctor or nurse, maybe)

Who is your favourite singer or band?

Jose Gonzalez

What's your favourite food?

It's a tie between noodles and ice cream

What is the most fun thing you've done?

I got to climb up an active volcano with my family in Iceland and then slide down on the ice!

If you had 3 wishes for yourself what would they be? - be honest!

I'd want to be able to freeze time, read thoughts or heal sickness instantly

Tell us a joke.

Why don't scientists trust atoms? Because they make up everything!
---
---