Profile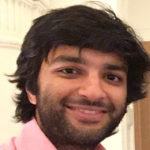 Deepak Chandrasekharan
My CV
Education

Colchester Grammar School, University of Cambridge, University of Oxford, University College London

Qualifications

MA (science degree during first three years of medschool), BMBCh (Medical degree), MRCS (Membership of Royal College of Surgeons – Surgical qualification), DOHNS (Diploma of Otolaryngology, Head and Neck Surgery – Ear, nose and throat surgery qualification), FHEA (Fellow of the Higher Education Academy – teaching qualification)

Work History

Mainly healthcare settings and a bit at uni – Horton Hospital, Jericho Health Centre, John Radcliffe Hospital, Royal London Hospital, Northwick Park Hospital, Royal National Throat Nose and Ear Hospital, University College Hospital. I was a College lecturer for a couple of years at Oxford teaching students about neuroscience and interviewing people when they applied to study at Oxford.

Current Job

Clinical Research Training Fellow – I spend 80% of my time in the lab and 20% of my time working in the hospital helping look after adults and children with ear, nose and throat problems.

Name of MRC-funded unit/centre/institute:

MRC Harwell

My university:

University College London
About Me:

Having fun doing surgery and science

Read more

I'm an ear, nose and throat registrar working in London and MRC Harwell.

I enjoy working on focussed tasks by myself and love the flow of this but can't do this all the time. I have most fun when working as part of a team to solve interesting and important problems so I am lucky to work with some great clinical and scientific colleagues every day.

When I need time to myself to think I go long distance running to clear my head.

Although I enjoy music and going to gigs, I tried to learn the violin when younger but was rubbish and failed my exams. I was told I could keep to the beat alright though so I took up the drums instead.

My Work:

I'm a surgeon in training (registrar) who love ears, noses and throats and hates pollution so I'm doing a PhD looking at how pollution affects these organs and stops them working properly.

Read more

The best bit about my job is the variety of things I get to do and people I get to work with.

I spend a day a week in the hospital seeing and operating on patients with ear, nose and throat problems. This can be adults and children and the problems can be from tonsillitis to nosebleeds and from ear infections to cancers of the head and neck.

The rest of my time is spent in the lab studying how the ear works. I'm studying the middle ear which is the bit behind the eardrum where the three tiny bones of hearing (smallest bones in your body) are that vibrate to conduct sound to the the cochlea and nerves of hearing and then the brain. Sometimes, this middle ear becomes full of fluid and we don't really know why – this is called 'glue ear'. It happens to almost everyone at least once when you're a child and makes it difficult to hear at home and at school so learning and speaking can become really hard.

I think air pollution plays a part in this, and in general infections of the ear, nose and throat and I want to try figure out what's going on.

This is important as lots of kids end up having an operation called a grommet. This is where with the patient under an anaesthetic so they are asleep and can't feel pain, we make a small hole in the ear drum to remove the fluid and put a temporary plastic tube in to let air get in so the eardrum and bones can vibrate again – just like a drum full of air will make more noise than a drum full of water. The first time this was done was by accident in 1642 when a doctor called Jean Riolan the Younger accidentally poked a hole into a patients ear while cleaning it and we're still trying to see if this is the best way to treat these problems.

My Typical Day:

Labs and hospitals

Read more

My typical day varies depending on whether I am in the hospital or the lab.

In the lab I spend the day reading about new research, discussing science with colleagues and designing and doing experiments. I have a few experiments on the go and am learning to keep a good to-do list so I stay on top of things.

In the experiments I do, I grow cells from the ear and see how they behave (how they grow, what they look like). Our lab has a lot of fun techniques to study cell biology and I learned these from my senior colleagues before using them to study the cells I'm growing. These include using lots of microscopes; mixing fluorescent proteins to the cells and seeing if they attach or not by using lasers to see what colour the cells are; dissolving the cells and looking at what proteins they're making at the time and lots more depending on the questions. I write all this down in a lab book and discuss the results regularly with the team.

In the hospital, I start the day with a 'ward round' where I work with the senior doctors and nurses to go see all the admitted patients and check how they are doing. We have a great team of dietitians, speech and language therapists, physios and many more people who work hard to who help our patients. I see any new emergencies that come into the emergency department and sometimes have to take patients to have an operation to help them get better.

I am disciplined with working at home, but like all of us I have some homework to do. I cook something to eat and also try do some exercise and relax by reading a bit of a book or watch some TV most evenings.

What I'd do with the prize money:

Programming for Pollution Prevention

Read more

Over the years I've worked at lots of science festivals such as the Royal Society Summer Science, MRC Festival, New Scientist Live and the British Science Festival. This has always been great fun and the attendees like it too – but we know there are lots of people that can't come to these events.

As such, I want to work with the teachers and students of local schools in North West London where I live to help them design and perform a small experiment and show how scientific research is relevant to every day life.

The amount of data now coming from research is vast but we have a real shortage of people who can work with this – called data scientists. So the aim is to give students experience of research, data science and coding using freely available data – called open data. The way this will work is below:

Work with students and teachers to design a simple and focussed research question relevant to pollution using open data available for London
Enlist help from  informatics and data science colleagues to run a one-day hackathon session to train students and show them how they can answer this question using a free to access programming language called R
Work with the students to present their findings to their peers and maybe even local councillors in their area to help inform change
My Interview

How would you describe yourself in 3 words?

Enthusiastic, Interested, Distractible

What or who inspired you to follow your career?

In uni I had a really nice and slightly eccentric neuroscience Professor called Roger Carpenter. He was super smart but he would patiently sit down and discuss all the questions and ideas that we had about that week's lectures. He taught me that imagination and curiosity are really important and using fundamental principles to solve science problems is great fun. He could also write upside down!

What was your favourite subject at school?

Chemistry - I loved mixing solutions together and bubbling things - it felt like being a scientist.

What did you want to be after you left school?

Wildlife conservationist

Were you ever in trouble at school?

Sure - but I found out that I had more fun and learned more when I wasn't!

If you weren't doing this job, what would you choose instead?

Barista in a coffee shop

Who is your favourite singer or band?

Beirut

What's your favourite food?

Pistachio ice cream

What is the most fun thing you've done?

Watching the chimpanzees in Gombe Streams in Tanzania where Jane Goodall did her behavioural research.

Tell us a joke.

Why do chemists love dubstep music? They love to drop the base.
My profile link:
https://ias.im/u.212952
---
---