Profile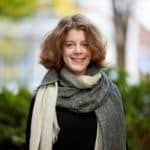 Emmanuelle Vire
My CV
Education

I studied in Belgium. Went to uni in Belgium, where I got a PhD. Then moved to Cambridge. Now working in London

Qualifications

I have a PhD in piano and one PhD in biology

Work History

In Brussels, Cambridge and London

Current Job

I'm n investigator scientist, it's a fancy title to say that I'm doing research in a lab, teaching students at Uni, and making new discoveries everyday.
About Me:

I'm tall, I have red hair, and I'm very passionate about my work

Read more

I was born in Belgium.

I studied in Belgium and then decided I wanted to travel and meet new people. I came to Cambridge because I was very lucky to be offered a job there. I worked for the University of Cambridge for 7 years, then got a job in London which is where I now work.

My story is the living proof that you can be from nowhere, and think you're not good enough, and end up working in prestigious places, have a wonderful job and Avery happy life!

My Work:

I do some detective work: I'm looking for modifications to the DNA in brain diseases

Read more

I want to make a difference for people who are living with a disease. For the patients but also for their families.

I found out that I could combine my passion (being in the lab) and my interest in fighting diseases. That's why I'm a scientist.

I look at diseases affecting the brain of people. With my team, I'm trying to understand why the disease start. Because if we can understand how it start, we can try to stop the start of the disease.

My Typical Day:

Wake up at 6.30am, make porridge, get on the train to London, get to the lab, do some experiments and have lots of meetings with people, work some more and get on the train back to Cambridge, cook dinner and play the piano. Go to bed!!

What I'd do with the prize money:

I will invite as many school students as possible to see my lab

Read more

£500 is a lot of money.

I hope to win. Because I only discovered that I wanted to be a scientist when I went to see a lab.

So I want to offer that opportunity to a lot of people so they can too find out whether they like to be in the lab or not.

Science is like food: you can't say you don't like it if you've not try it 🙂
My Interview

How would you describe yourself in 3 words?

passionate, curious, entertaining

What or who inspired you to follow your career?

my teachers

What was your favourite subject at school?

chemsitry and music

What did you want to be after you left school?

a doctor, an astronaut, and i wanted to be liked by my friends and colleagues

Were you ever in trouble at school?

no, I was shy, and I really didn't like myself

If you weren't doing this job, what would you choose instead?

i would have a restaurant or an hotel, or both!

Who is your favourite singer or band?

the XX

What's your favourite food?

ice cream

What is the most fun thing you've done?

sailing

If you had 3 wishes for yourself what would they be? - be honest!

be healthy forever; do fun stuff; be with nice people

Tell us a joke.

What's the best cheese to tempt a bear out of the woods? Cammembert
My profile link:
https://ias.im/u.212949
---
---