Profile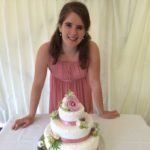 Ettie Unwin
My CV
Education

Sir William Perkins's School, University of Southampton, University of Cambridge

Qualifications

MEng in mechanical engineering, PhD in engineering

Work History

DSTL (Defence Science and Technology Laboratory), Imperial College, London

Current Job

Name of MRC-funded unit/centre/institute:

MRC Centre for Global Infectious Disease Analysis
About Me:

An applied mathematician with an interest in infectious diseases who also enjoys climbing and baking!

Read more

I live in West London, where I recently moved after finishing up being a student.  I especially like it here because it is close to two indoor climbing walls, where I spend a lot of time with my friends, and I can easily get into central London to make the most of the shows and museums.  I also like to cook and bake in my spare time and have made and decorated two wedding cakes for my twin brother and sister.

My Work:

I'm an infectious disease modeller, which means I use maths and computers to predict the spread of disease, in particular malaria.

Read more

I work at Imperial College in London, but not at their main site where all the students are.  Instead I work in a research building in a busy and operational hospital in central London.  Here I use computers and maths to predict the how infectious diseases spread around the world.

In particular, I focus on malaria in sub-Saharan Africa. Malaria is a mosquito-borne infectious disease that affects humans and other animals. It causes symptoms that typically include fever, tiredness, vomiting, and headaches. Governments and charities give out nets to families that members can then sleep under to stop them being bitten.  I look at if there are fewer cases in the people who don't sleep under the nets due to some people in the community sleeping under them.

I also am part of a team who works with WHO to help predict how the ongoing Ebola outbreak in the Democratic Republic of Congo is growing.

My Typical Day:

I spend most of my day sat at a computer writing maths equations into code and working out what the results mean.

Read more

My day starts around 7.30 when I leave home to cycle to work and then hit the gym.  I'm usually sat at my desk for 9 where I look at my emails and check what meetings I have that day.  People in my department work very closely together so I often have meetings where I either tell people about the work that I'm doing or hear about opportunities to help them.

For the rest of the day I develop mathematical models (or sets of equations that the computer can solve) to predict how malaria will spread under certain conditions.  I then look at the results and see what they tell us about how countries can implement policy to better prevent their residents from getting infected.

As an academic it is also important to communicate my findings with others so I also write my findings into papers and apply to speak at conferences across the world.  I usually leave work between 5-6 depending on what I have on.  Sometimes I go climbing or play board games with my colleagues after work.

What I'm doing for the MRC Festival:

I'm helping out with a school visit to my department where we will tell the girls who are coming to visit more about what we do and how the researchers ended up with the jobs we now have.

What I'd do with the prize money:

I'd like to use the money to go into schools or have schools come into visit the department and teach the students about how maths is so much more than what you are taught at school!

Read more

I'm really passionate about inspiring teenagers to study maths and science at university and to think about how the things they learn at school can make a difference in the real world.  I would use the £500 prize money to go into local schools and talk about the power of using maths to predict the real world performance of different things.  Whether that be how bridges will perform once they are built or how the next big flu outbreak will spread around the world.  I would purchase some raspberry pi computers (or something similar) and help the students in small groups develop some models themselves.
My Interview

How would you describe yourself in 3 words?

Motivated, Caring, Determined

What or who inspired you to follow your career?

My maths teacher encouraged me to think further than just the maths I was taught at school and think about how it could be useful in the real world.

What was your favourite subject at school?

Maths

What did you want to be after you left school?

I wasn't sure what I wanted to do after I left school. I enjoyed maths and physics so I thought about engineering. I didn't get in where I wanted to study first time around so I took a gap year and did a Year in Industry with DSTL doing military research. It was really fun and a great experience before I started university.

Were you ever in trouble at school?

No - I was more likely to be found playing some kind of sport or entering cryptography competitions.

If you weren't doing this job, what would you choose instead?

I think I would be a school teacher. I have really enjoyed the undergraduate teaching I have done.

Who is your favourite singer or band?

I'm not fussy! I like listening to the radio during my working day.

What's your favourite food?

Ice cream!

What is the most fun thing you've done?

I climbed to the top of Mount Toubkal (4,167m high) in the Atlas mountains in Morocco with a friend in a day.

If you had 3 wishes for yourself what would they be? - be honest!

1) To always enjoy my work as much as I do now. 2) To be able to inspire others to achieve their full potential. 3) Be able to use my research to help prevent infectious disease outbreaks getting out of hand.

Tell us a joke.

Did you hear about the guy who invented the knock knock joke? He won the "no-bell" prize.
My profile link:
https://ias.im/u.212934
---
---