Profile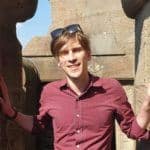 James Streetley
My CV
Education

Maidstone Grammar School (1999-2006), University College London (2006-2009), Birkbeck College, University of London (2009-2010), MRC National Institute for Medical Research (2010-2014)

Qualifications

GCSEs (English, English Literature, Maths, Biology, Chemistry, Physics, French, German, Media Studies, Religious Studies and IT)
International Baccalaureate (Higher: Biology, Chemistry, Maths and Standard: English, German, Psychology),
BSc Biochemistry,
MRes Structural Biology,
PhD Structural Biology

Work History

Student jobs:
Sales Assistant – Next, Christmas, 2004
Sales Assistant – Qube, 2004-2006
Theatre Technician, UCL – 2006-2012

Science jobs
Post-doctoral Research Assistant, University of Glasgow (2015 – 2018)
Visiting Post-doctoral Research Assistant, Boston University (2015-2015)

Current Job

Name of MRC-funded unit/centre/institute:

MRC-University of Glasgow Centre for Virus Research

My university:

University of Glasgow

My area
About Me:

I'm 30 years old and live in Glasgow. Outside of working as a microscope facility manager, I enjoy triathlon (swimming, cycling and running) and scuba diving.

My Work:

I help other scientists from across Scotland to use our electron microscopes in their research projects.

Read more

I work as the facility manager at the Scottish Centre for Macromolecular Imaging (SCMI). The microscopes the SCMI uses are a special type of microscope called an electron microscope, which means that they use a beam of electrons to look at the objects the researchers are interested in, instead of a beam of light, like in a microscope you might have at school. Using electrons means we can see much smaller things, like individual virus particles or proteins and enzymes.

To look at such small things, the microscope is very powerful but also very sensitive to the slightest movement or disturbance, so when we use the microscope, we actually sit in the next room to control it. Otherwise even talking and moving around the room could harm our experiment.

The size and difficulty in using the microscope means that specialist staff such as myself and my colleague are needed to help other scientists use the microscope and do their experiments. The microscopes are so large and expensive that not every university can afford to buy one, so we work as a team with researchers across Scotland to all share this microscope here in Glasgow. This photo shows the different Universities and funders who helped us to buy the microscope.

My Typical Day:

Setting up the microscope to collect pictures automatically, and responding to emails, reading documents, scheduling and other office work

Read more

My day is a mixture of setting up the microscope so the other scientists can get the pictures they need and doing work at my desk to manage the facility; making budgets, ordering supplies, scheduling more visits from scientists and other jobs that make our facility nicely organised.

Our microscope is fully automated, so once it is set up, it can run for 2 or 3 days taking images of the scientist's samples. This means my days are split between setup days and other days.

A setup day means welcoming our user/visitor to the centre and preparing their samples to be put in the microscope and preparing the microscope itself. This takes about half the morning. From there, I work with the visiting scientist to work out where we want the microscope to take pictures, and then we make a queue of thousands of places where we want photos. Then we can set the microscope running and hopefully 2 days later they will have a lovely set of photos to process. The set-up finishes around mid-afternoon and then the visitor can even start to look at the first photos and try to see if they can already learn something from these early images.

On the other days, and squeezed around the microscope setup is when I do the other work needed to manage the facility. This means some paperwork on finance, buying supplies, scheduling visitors for later and responding to questions via email. I also need to read some scientific papers and write papers and presentations, so that I'm keeping up with the newest information and techniques in electron microscopy, and so that I can tell other scientists about how our microscope is working.

What I'd do with the prize money:

I'd like to make a game/challenge that shows some of the fiddly steps to working with microscopes and to 3D print some virus structures.

Read more

I'd like to make a game out of some of the tricky and fiddly jobs that we have to do to help our scientists get their specimens ready for the microscope. I think it'd make a good challenge as to how many small "precious specimens" could be picked up and 'loaded' in a minute. It could be something like this large scale demonstration set that was 3D printed by the Victor Change Institute: https://twitter.com/CarusL/status/1106443058189484033.

A small, portable game could be used when groups visit us or taken out to groups along with other engagement activities.

We could also 3D print some of our solved virus structures to show exactly how viruses look in 3D.
My Interview

How would you describe yourself in 3 words?

conscientious, funny, daft

What or who inspired you to follow your career?

CSI: Crime Scene Investigation and other science/crime TV programmes. I wanted to be Forensic Scientist so I studied Biochemistry and got sidetracked by structural biology on the way.

What was your favourite subject at school?

Chemistry

What did you want to be after you left school?

Forensic Scientist

Were you ever in trouble at school?

not really

If you weren't doing this job, what would you choose instead?

I'd work in theatre doing the lighting.

Who is your favourite singer or band?

Taylor Swift

What's your favourite food?

Spaghetti Bolognese

What is the most fun thing you've done?

scuba diving at night with turtles on the Great Barrier Reef

If you had 3 wishes for yourself what would they be? - be honest!

to be an early bird, to stay healthy and active, and to travel more

Tell us a joke.

What cheese lures a bear out from a cave? Camembert (Come-on-bear)
My profile link:
https://ias.im/u.212944
---
---