Profile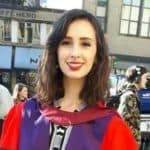 Kaitlin Wade
My CV
Education

My secondary school was Ashlyns School in Berkhamsted, Herts, where I completed my A-levels in Biology, Mathematics and Chemistry. I then attended the University of Bristol for my undergraduate degree in Biology and Mathematics and also did my PhD in Genetic, Molecular and Lifecourse Epidemiology at the University of Bristol.

Qualifications

3 A-levels (all As), BSc in Biology and Mathematics (2:1, joint honours) and PhD.

Work History

My first job was at Waitrose as a shelf stacker in the fresh food aisle. I have held two postdoctoral jobs at the University of Bristol since graduating from my PhD.

Current Job

I'm a Lecturer and Co-Director of the Masters course in Epidemiology at the Bristol Medical School.

Name of MRC-funded unit/centre/institute:

MRC Integrative Epidemiology Unit

My university:

University of Bristol
About Me:

I'm a sociable, active and creative scientist at the University of Bristol. I'm also a keen baker, face-painter, weight-lifter and fairy godmother.

Read more

Hi, I'm Kaitlin. I live in Bristol (and have done for the past 10 years!) with my boyfriend, Tom, and my best friend, also confusingly called Tom. I like exercising – I go to the gym quite a lot and attend a Latin American Zumba-style class every week, called Cuba tone (remotely in this isolation!). I also love supporting my boyfriend run marathons and in awe of him (and anyone) who can endure running (I hate running!). I'm a pescatarian so my favourite food is probably fish (especially salmon), so don't think I could be a strict vegetarian or vegan but would love to try.

I'm quite creative – in my spare time, I like knitting, cooking and baking. I have applied for the Great British Bake Off a couple of times but unfortunately didn't get through. Even still, I make a pretty great chocolate cake. I also do a bit of face painting for private and public events. I have lots of tattoos, most of which include some sort of watercolour or bright colours.

I absolutely love Bristol but I also love travelling (in the past couple of years, I've been to India, Japan, Brazil, South Africa and a couple of countries in Europe, and have also been to America lots of times). At the moment, my favourite shows are pretty much anything with David Attenborough and I'm really into Brooklyn 99, Arrested Development, Always Sunny in Philadelphia, Parks and Recreation, Game of Thrones, and the documentaries that Louis Theroux does. I also love watching stand up comedy and live music too. Some of my long-term friends in Bristol are musicians so I love watching them play in local pubs. I genuinely like pretty much any genre of music – my favourites would probably be drum and bass, 80s, 90s and 00s plus power ballads – and I love going to festivals, especially those including artists from Hospital Records. I'm also a God mother to one of my best friends' beautiful little girl, who I adore and look forward to seeing anytime I'm not with her!

My Work:

Understanding whether our gut bacteria lead to the development of disease

Read more

I'm really interested in the gut microbiome – a huge community of microscopic living things including bacteria, viruses and fungi that are naturally within our guts to help us digest food and protect us against things that can cause illness. So, my job mainly involves working on a computer, applying mathematics and statistics to help me show whether our gut microbiome is involved in the development of diseases such as obesity, diabetes, inflammatory bowel diseases and cancer (or even protect us against these diseases).

To do this, I use lots of different techniques, most of which include lots of people and statistical methods that improve my ability to provide evidence that helps separate out correlation (e.g., "this type of bacteria might be linked to cancer") and causation (e.g., "this type of bacteria causes cancer").

I was awarded an Elizabeth Blackwell Institute Early Career Fellowship by the University of Bristol to focus on this research and start my independence. I'm continuing this work alongside my new role as a Lecturer at the Bristol Medical School and Co-Director of Masters course in Epidemiology.

My Typical Day:

Really varied!

Read more

Usually, my day involves me working away at a computer in my office, which I share with a team of about six people, all interested in the causes and consequences of obesity.

 

I also love presenting so I try to present my work and teach whenever possible, both within the department and outside!

 

But, my day and job is really varied! I have of lots of meetings with really interesting people, all trying to improve health in some way. I get to do lots of travelling to teach, present at conferences (have a look at me presenting below) and attend courses – so far, I've been to India, Japan, Brazil, America, Europe and across the UK and, this year, I get to teach in Alabama, Minneapolis and Houston (all in America), Italy and Bristol. With this travelling, I get to meet lots of new people, who I can maybe work with in the future (see the group of students and teachers who were in India in 2017).

 

I also love talking to the public about my research and hearing the opinions of others on what I do and how my research might help others. I've won awards for the public engagement work that I'm lucky enough to be able to do.

A lot of my research also gets to be published in journals, some of which gets a lot of media attention – on Twitter and other social media platforms and in the news, both nationally and internationally, which is pretty cool.

What I'm doing for the MRC Festival:

As part of the MRC Festival of Science, I'm working with a team of researchers to take a "Research Road Show" to the city of Bristol over the week of the 13th – 23rd of June. This will include a set of interactive games and activities including a Wheel of Fortune, Genetics Top Trumps, and Triangulation Cluedo. We're aiming to take the Research Road Show around to different places, including supermarkets and the streets, to chat to members of the public about research.

What I'd do with the prize money:

A walk-through gut in a planetarium!

Read more

With the money, I was going to work with the Bristol Data Dome to create a walk-through gut that projects images of the bacteria we all have in our guts that help us digest food and protect us against illness.

My vision is that there would be lots of interactive activities that relate to different aspects of the gut microbiome – using things like slime, ball pits and biodegradable glitter.

I'd also love to hear your ideas and opinions on this!
My Interview

How would you describe yourself in 3 words?

Sociable, Honest, Creative

What or who inspired you to follow your career?

My A-Levels maths teacher was awesome, inspiring and really supportive.

What was your favourite subject at school?

Biology

What did you want to be after you left school?

I didn't really know what I wanted to be but I knew I liked Biology and Maths, so I did this at University! Then I fell into my current job in what seemed like quite a natural way.

Were you ever in trouble at school?

Maybe once or twice but not really.

If you weren't doing this job, what would you choose instead?

I'd love to own a bakery or cafe, that holds summer fairs and festivals where I can face paint too.

Who is your favourite singer or band?

It changes pretty much every week but one of my favourite songs is "Don't You Worry Child" by Swedish House Mafia. I've got a tattoo of some of the lyrics on my foot.

What's your favourite food?

Fish - I love salmon and sushi

What is the most fun thing you've done?

Scuba dived in the Great Barrier Reef.

If you had 3 wishes for yourself what would they be? - be honest!

Wishes for myself are difficult... I suppose I would wish to be fluent in any language, to never be unwell, and for a billion pounds, why not. Otherwise, I'd use all my three wishes to make reverse climate change.

Tell us a joke.

I tried to catch fog yesterday. Mist.
My profile link:
https://ias.im/u.212932
---
---