Profile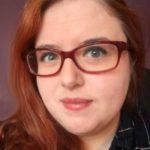 Kate Timms
My CV
Education:

St Anne's High School, Aquinas College and University of Manchester.

Qualifications:

Work History:

After my PhD, I worked at the University of Manchester. Now I work at the University of Leeds.

Current Job:

I'm a postdoctoral researcher at the University of Leeds.

Name of MRC-funded unit/centre/institute:

I work on an MRC grant.

My university:

University of Leeds
About Me:

I'm a researcher at the University of Leeds. I love all things creative and geeky. Especially geeky creative things!

Read more

I live in Manchester but work in Leeds, so as you can imagine I spend a lot of my time driving! I usually listen to audiobooks on my journey. My favourites are the Discworld series by Terry Pratchett – I must have read/listened them all at least 5 times! I don't think I'll ever be sick of them.

When I'm not driving or doing science, I can usually be found embroidering, gaming on my PS4, watching women's football or pretending to be a half-elf cleric in my weekly D&D game. Yep, that's right – I'm super cool.

Oh, and if you have a sick plant, I'm an expert in nursing them back to health. I practically live in a jungle at this point, I have so many of them!

Read more

When a baby is inside its mum, it gets all its food and oxygen from a special organ called the placenta. The placenta gobbles up things from the mum's blood and either uses them itself or sends them to the baby.

Some mums get diabetes in pregnancy. This means that their blood sugar is too high and their body can't bring it back down to the normal level. Some of these mums have normal sized babies, but some have really big babies.

These big babies have a higher chance of getting heart disease and diabetes. If we can figure out what makes these babies grow too big, we can try to stop that happening!

To try to find this out, I look at tiny parcels that travel around a mum's blood. These parcels – we call them 'extracellular vesicles' – have different things inside them in the mums who have big babies. I'm trying to figure out how these extracellular vesicles might cause big babies by looking at what they do to the placenta.

My Typical Day:

Drive to work. Eat breakfast. Collect placenta from c-section. Do experiments on placenta. Analyse data. Drive home.

Read more

My starts early. Waaaay too early. I get up at 5.30am and drive to Leeds. When I get there, I make some porridge for breakfast and sit down and do a bit of work at my desk.

Next, I wander over to the hospital and sit in on the meeting where the doctors and nurses talk about the mums who are ready to have c-sections to deliver their babies. After that, I go and talk to some mums and ask them if I can collect their placenta. If they say yes, I go and get some scrubs on and dash off to the operating theatre. Then I stand in the back of the theatre and watch the doctors deliver the baby – which is amazing to watch!  When they've finished I take the placenta back to my lab and the science begins.

I cut up tiny bits of the placenta and treat them with different things. Sometimes I treat them with lots of sugar, just like there is in the blood of mums with diabetes. Other times I treat them with extracellular vesicles from other organs, like the pancreas. After the treatments, I do lots of different experiments which tell me what my treatments did to the little bits of placenta.

In between all this I teach university students, analyse data, write papers to publish what I discover, plan new experiments, go to meetings and try to find time to have some lunch! All before I drive back to Manchester for a few hours of chilling before it all starts again.

What I'd do with the prize money:

I want to design a game to help teach people – including school students – about what extracellular vesicles do to the placenta and baby in mums with diabetes.
My Interview

How would you describe yourself in 3 words?

creative, curious, geeky

What did you want to be after you left school?

I used to want to be a doctor, because I didn't really know that being a scientist was something I could do. Now I'm lucky enough that I get to interact with patients and do science - win!

Were you ever in trouble at school?

In primary school I always got in trouble for 'not doing my homework' and failing my spelling tests. Turns out I'm just really dyslexic!

Who is your favourite singer or band?

At the moment I love Hayley Kiyoko, PVRIS and Janelle Monáe. But you can never beat Queen when it comes to my all time favourite.

What's your favourite food?

Pizza. Definitely pizza.

If you had 3 wishes for yourself what would they be? - be honest!

Be able to breathe underwater because I love the ocean so much. The ability to teleport myself so I never have to drive to work ever again! Magically cleaning house - I hate cleaning and doing the washing up! Which usually makes my house pretty messy...

Tell us a joke.

How do you stop an baby astronaut from crying? You rocket!
---
---