Profile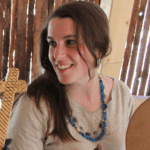 Lorena Boquete Vilarino
My CV
Education

CEIP Casas in Lugo, Spain (Primary school); IES Xoan Montes in Lugo, Spain (High School), Universidade de Santiago de Compostela (BSc), Spain; University of Leicester (MSc) and University of Exeter (PhD)

Qualifications

BSc Biology, MSc Molecular Genetics and PhD Medical Studies

Work History

Wellcome Sanger Institute and MRC Laboratory of Molecular Biology

Current Job

Name of MRC-funded unit/centre/institute:

Laboratory of Molecular Biology

My area
About Me:

I'm Spanish but have lived in England for 8 years. I love science (obviously), history, boardgames and videogames. I also really like baking bread and learning new crafts

Read more

I am originally from Galicia, in the cold and beautiful northwest of Spain. I moved to England to do a master's degree, but I liked it here and stayed for a few more years!

I live in Cambridge with my boyfriend and a friend. We all love playing videogames and boardgames, so there is a lot of competition going on amongst us. I usually win at Mario Kart but I am not good at all with shooters…

One of my biggest hobbies is doing historical re-enactment. I love history, and re-enactment gives me the opportunity to learn and live it more. I do Iron Age/Roman period in Spain, and Saxon, Viking and Norman in the UK. I have learned how to spin wool, weave, cook in a cauldron over the fire, make bread…

My Work:

I look at how our white blood cells can detect and destroy cancer cells

Read more

When someone has cancer, their cells behave in strange ways. Their immune system should be able to look at the cancer cells and target them as something which shouldn't be there. However, that is not the case for many cancer patients – their immune system seems to have been altered by the cancer!

Some types of cancer therapy work by giving the immune system a boost – these are known as immunotherapies. My research looks at how white blood (immune) cells detect and react to the presence of cancer cells. I am searching for proteins in cancer cells which are important for them to hide from or change the behaviour of immune cells. The idea is that finding these proteins will help us understand how the immune cells see the cancer cells and how we can make them see better!

There are several ways of finding important proteins, but my research group works mainly with CRISPR. You may have heard about it from the press or even from your teachers, it is basically a way of cutting DNA in the cells so that the instructions to make the protein are not complete. The protein then does not work as it should, and we can then look at our cells and see the effect of not having that one protein. This is the idea of how it works:

There is a good explanation of how CRISPR works in this website: https://www.sciencenewsforstudents.org/article/explainer-how-crispr-works

My plan is to use CRISPR to de-activate every protein (one by one) in the cancer cells and look at how the immune cells behave when they encounter those cancer cells without each of the proteins. Do they attack them? Do they ignore them?

My Typical Day:

I check whether my cells need anything, do my experiments with them, go to meetings and sometimes grow bacteria

Read more

My days are very varied, sometimes experiments do not work and I need to start from scratch unexpectedly! However, this is what I usually do:

First I go to the lab where my cells are growing. I usually have a few different types of cell (cancer cells, white blood cells, stem cells…). I look at them under the microscope to see if they are growing healthily or whether I need to do anything to them. I feed them a special liquid (medium) with sugars, proteins and everything they need to grow.

If my cells are ready for an experiment, I go fetch my experiment plan and I prepare everything I need. Most of my experiments at the moment involve growing cancer cells and white blood cells together for a few hours, sometimes adding some chemical to kill the cancer cells. I grow my cells in a clean environment to avoid bacteria and viruses attacking them. This is how the clean cabinet looks like:

While the cells are growing together I do other experiments, mostly joining DNA sequences together in order to attach fluorescent proteins to other proteins. I do this work in a different lab area because I sometimes need to grow bacteria for these experiments, and I don't want those bacteria to mix with my very clean cells. This is my bacteria and DNA lab:

I have at least one meeting every day, some of them with other people in the lab but sometimes I go to online meetings with people from the USA and Sweden! Usually someone talks about their work and I have to really focus to understand what they are doing – we all work in very different things.

This is how my office looks like:

I share the office with many other scientists, so it can be a bit noisy sometimes! However, this also means that I have people around to give me a hand when I need help, or to go on a well deserved break every now and then 🙂

What I'd do with the prize money:

Publish a children's book about being a scientist

Read more

Children are now learning about science a lot earlier than back in my days! My nephew is now 3 years old and he has just learned about other planets, stars… He knows I am a scientist and he is very curious about my work and the work of other scientists. I have looked around for illustrated books on what scientists do, but I have not found any.

My idea is to write a simple story about a child visiting scientists and learning about their work. It would ideally include some real pictures – maybe of cells under the microscope, 3D models of viruses… At the end of the book I would also like to include some basic experiments which children could do with the help of an adult.
My Interview

How would you describe yourself in 3 words?

optimistic, energetic, imaginative

What or who inspired you to follow your career?

My biology teacher in high school - she made genetics sound like the most interesting thing in the world

What was your favourite subject at school?

Biology and music

What did you want to be after you left school?

I went from wanting to be a physio, to a vet and then a researcher

Were you ever in trouble at school?

A few times, but not very often! And nothing serious either

If you weren't doing this job, what would you choose instead?

I would probably become a baker... Or a carpenter

Who is your favourite singer or band?

It is very difficult to choose only one. I am currently obsessed with Hozier's new album and with Leprous

What's your favourite food?

Spanish omelette, always!

What is the most fun thing you've done?

I am split between going to a metal festival in Germany with a few friends when I was in Uni, and being an archer at the Battle of Hastings re-enactment (I shot Harold!)

If you had 3 wishes for yourself what would they be? - be honest!

I would wish that I could travel in time, that I could fly and that I had lots of money

Tell us a joke.

What did the pirate say when he turned 80? "Aye matey!"
My profile link:
https://ias.im/u.212957
---
---