Profile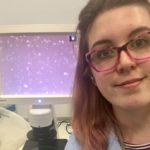 Marianne King
My CV
Education

Beaconsfield High School, University of Sheffield.

Qualifications

BSc. Biomedical Science (2011-2014) and MSc. Translational Neuroscience (2014-2015).

Work History

Medical Laboratory Assistant at Wycombe Hospital (2015-2016).

Current Job

PhD Student (2016-present).

My university:

Aston University

My area
About Me:

I'm a PhD student and first time cat mother living in Birmingham.

Read more

I live in Birmingham with my boyfriend and our cat, Sylvester. We don't lead particularly exciting lives but are all quite content together! We attempt to travel as much as possible as we have a very long list of places we'd like to visit. (Sylvester goes to a cattery where he has a heated blanket; we're in talks with him about buying one for the flat).

Here he is looking betrayed because we had cheese and he didn't.

In my free time I like to swim, paint and read, not necessarily all at the same time. At school I played the clarinet but as I now live in a flat I feel like I'd upset my neighbours if I started rocking out to Mozart.

I've recently fallen in love with open water swimming and did a 5km swim in Lake Windermere for Alzheimer's Research UK last year. This year I'm hoping to swim 10km but we'll see how that goes…

My pronouns are she/her.

My Work:

I turn stem cells into brain cells called astrocytes to find out how they they might be going wrong in a neurodevelopmental disease called Rett Syndrome.

Read more

I'm a PhD student researching a neurodevelopmental disorder called Rett Syndrome. A neurodevelopmental disorder is where the brain does not grow properly. In the case of Rett Syndrome, it is because of a genetic mutation in one gene. It only affects girls, and they will start to experience problems when they're around 18 months old. Girls with Rett Syndrome will face a lot of health problems, such as difficulties with breathing, communicating and using their hands. They will also have seizures and problems with their hearts.

To try and work out what might be causing all these problems in Rett Syndrome I am using stem cells. Stem cells can turn into any cell type in the body, so they're very powerful! The type of stem cells I am using are called induced pluripotent stem cells, or iPSCs for short. These are made by taking skin cells from patients and via some clever reprogramming are turned into iPSCs – it's almost like taking the skin cells back in time! I can then turn these iPSCs into neural precursor cells (the stem cells that make our brain cells) and then into star-shaped brain cells called astrocytes! I like pictures so here is the process below:

Astrocytes are very important in helping our brains develop, and for making sure our other brain cells, such as neurons, are happy and healthy. Astrocytes will provide neurons with energy, remove their waste products and help form the circuits in our brains that help us learn and make us, us!

It could be that in Rett Syndrome astrocytes aren't behaving properly, and therefore might not be looking after neurons the way they should. I'd like to find out how! If we find out how, we might be able to develop a treatment that could make their lives easier. Maybe even a cure one day!

My Typical Day:

My day mostly revolves around keeping my cells alive – feeding them, keeping them warm. that sort of thing!

Read more

My mornings usually start with a meeting or a swim. Swimming really helps me to wake up and feel much more productive throughout the day, meetings… not so much.

I will usually check my emails and have a look online to see if there are any new studies to read about Rett Syndrome and astrocytes. It's important to stay on top of all the new research that is happening all over the world.

Next, I will probably go down to the lab where myself and my fellow PhD students feed and look after all our cells. Cells need to be grown in completely clean conditions, which is why we have a lab with sterile tissue culture hoods where we do all our cell work. A single bacteria infecting our cells can wreak absolute havoc! Here is what some of my cells look like down a microscope:

Cells are rather like people in that they like to be warm and well fed. When we're not working with our cells they live in incubators set at 37oC (my boyfriend described these as being "warm fridges" which is a fairly accurate description of what they look like!), to mimic the temperature inside our bodies.

Some of my cells need feeding every single day (even Saturdays and Sundays when I'd rather be at home!) and other cells only need feeding twice a week. They also require different medias (media is cell food, pretty much) to keep them cheery. Again, like people, different cells prefer different medias. Just like how you might like pizza for dinner and your friend may want pasta. Cell media has less appetising names like mTeSR1 and DMEM/F12. 'Fun' fact: half a litre of mTeSR1 costs around £200! Keeping cells alive can be an expensive business.

Apart from these things, my days can be very variable; it depends what experiments I need to do that day. Some days I will spend hours staining my cells for different proteins – this is called immunocytochemistry, or ICC for short. Here is a photo of some of my astrocytes stained for glial fibrillary acidic protein (GFAP):

Other days I might scrape them all up into a big cell goo to see how much glycogen they have inside them, or I might add a special fluorescent dye that glows when the cells release calcium to see whether my cells are all interacting with each other – cells are constantly chatting.

At the end of the day I will try to go to the gym, because doing a PhD can be very stressful and exercise makes me feel better!

What I'd do with the prize money:

Create a photo book to donate to schools and libraries filled with beautiful images of scientists' results with a small explanation behind each one.

Read more

At school I loved science, but learning from textbooks doesn't often give you a real sense of the type of results that scientists gather to make the textbooks happen! Often these results – which are sometimes very beautiful! – are hidden in science journals which, unless you're at a university, you have to pay to access (boooo).

With this in mind I would love to create a photobook filled with images of results collected by my fellow PhD students and researchers. Next to each image will be a small description of the experiment used to get the result, and maybe a small description of the scientist who collected it.

I would then donate these to school libraries so that students can have a look at what real scientists research and the types of exciting results we find! With £500 I would hope to make at least 15-16 books. If I can gather some extra scientist friends it might also be great to come and chat to schools in more detail about the book and what we get up to!

I like the idea of creating something that will last and will hopefully be helpful for quite a few years.
My Interview

How would you describe yourself in 3 words?

Tall, bespectacled, hungry.

What or who inspired you to follow your career?

My science-y Grandparents and Seemore Skinless (a cheery skeleton from a 90s computer game).

What was your favourite subject at school?

May I choose two? - Art and Biology.

What did you want to be after you left school?

A neuroscientist, author, fashion designer, artist, plastic surgeon, psychiatrist... many, many things.

Were you ever in trouble at school?

Only once! I was talking in Chemistry.

If you weren't doing this job, what would you choose instead?

Cat fosterer.

Who is your favourite singer or band?

Evanescence.

What's your favourite food?

Pizza, with toppings that have rudely been described as horrible.

What is the most fun thing you've done?

Been trekking in the Himalayas!

If you had 3 wishes for yourself what would they be? - be honest!

1. I wish I lived near the sea. 2. I wish I could walk in high heels. 3. I wish I could cure Alzheimer's disease.

Tell us a joke.

What do you call a lobster that's in the way? A lobstacle!
My profile link:
https://ias.im/u.212948
---
---