Profile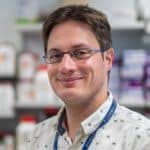 Matthew Burgess
My CV
Education

Unversity of Manchester, University of Oxford, St Bartholomews School – Newbury

Qualifications

PhD in Developmental Biology, mBioch Molecular and Cellular Biochemistry, A-levels Biology Chemistry Maths (A) Music General Studies (B).

Work History

Uni of Edinburgh 2 years Postdoc, Uni of Oxford 2 years Biomedical Scientist, few years at M&S in summer holidays during school

Current Job

Name of MRC-funded unit/centre/institute:

Centre for Inflammation Research

My university:

University of Edinburgh
About Me:

Researcher in Edinburgh but originally south of England. Love science, music, videogames and playing cricket (badly).

Read more

I live in Edinburgh with my wife (married 10 years soon!). Originally from Berkshire in the south of England but have slowly moved north with work via Oxford and Manchester before coming to Scotland two years ago. I enjoy cycling around Edinburgh, baking, learning to play club cricket at the weekends to unwind or staying up too late playing videogames. Bad habit of being self-deprecating! He/him.

My Work:

How does our body, especially the lungs, respond to infection and injury. How can we promote these responses to avoid complications from severe lung infections in the young and elderly.

Read more

I am interested in how our the cells in our body respond to infection and injury. The cells in your lung can respond to foreign material in the air that you breath and white blood cells in your blood have many specialisations to fight infection and clean up damaged cells.

Understanding these events is important so we can reduce the negative effects of infections. For example in very young and old people, infections in the lungs can make them very ill for a long time and affect their breathing for the rest of their life when the body doesn't respond correctly.

My work asks what happens when your body is responding to two such events at the same time to better understand these defences and identify ways that we could boost our responses to infection.

I use a helminth, a very small parasitic worm, that infects the guts of mice. This activates both the intestinal cells and the white blood cells to respond to the damage and try to attack the worm. If I also infect these mice with a cold virus the response to the worm gives protection against the virus. If we can understand what is happening during these two infections we can produce new techniques to protect against lung infections that don't require giving people worms!

My Typical Day:

Laboratory work, data analysis at a computer, reading of publications by other scientists, presenting work to my collegues and others.

Read more

Days can vary a lot as a research scientist! Often I will be in the lab performing experiments to try to answer a small specific question –for example if I stop something working in a culture of lung cells, do I get more infection by a virus?

Cells are worked with in an air-flow chamber to keep them clean from any unwanted infections.

We grow the cells in specialised ovens that keep the conditions similar to those inside the human body.

After incubation we use small wells of fresh human cells to quantify the amount of virus produced during the infection. These are stained to visualise the number of cells infected by the newly produced virus. This requires a lot of time looking down microscopes counting small dots!

After an experiment a lot of time is spent back in our shared offices analysing data with specialised software to see if the result fits my original thinking (or hypothesis).

In between these main commitments I have to plan my experiments for the next few weeks, make sure I have everything I need to do experiments, and try to keep up to date with what other scientists around the world are doing by reading reports we write in journals about our results.

As I gain more experience I am also responsible for training and supervising students starting in the lab for the first time, which is hard work but very satisfying.

Once a week we have meetings with other people working on the immune system to discuss someone's recent results and will also have people from across the UK and beyond come to present their work to everyone.

What I'd do with the prize money:

Buy equipment to update our department's public engagment workshops for schools and festivals.

Read more

We are developing new activities to bring to schools and science festivals around Scotland to talk about the work we do at the Centre for Inflammation Research. Currently we're planning two new activities on immunisation and what happens to you and your immune system when you cut yourself. Both of these require money to buy the materials for the games that form part of the workshop and the demonstration wounds.

I'm also interested to find ways of supporting schools who cannot normally attend our events to widen our outreach. 
My Interview

How would you describe yourself in 3 words?

Geeky, Obsessive, Excitable

What or who inspired you to follow your career?

I always enjoyed science the most at school and had some really great science teachers that kept me interested. In my last year of university I got to work a placement in the lab of Marella de'Bruijn whose enthusiasm and excitement for research confirmed how satisfying this career can be.

What was your favourite subject at school?

Probably chemistry despite now working in biology. I think it was easier to follow the logic of doing experiments to test ideas in chemistry back in school.

What did you want to be after you left school?

A scientist, although I don't think I really understood what a scientist actually did day to day back then!

Were you ever in trouble at school?

Yes. Would get distracted and talk to people when should have been paying attention. Sadly was otherwise trouble from the other children as a quiet geeky child ☹

If you weren't doing this job, what would you choose instead?

Probably trying to find work with baking or cooking. As my first supervisor would say, cooking and science are both carefully following instructions!

Who is your favourite singer or band?

The Electric Soft Parade is usually who comes first to mind.

What's your favourite food?

Pizza. Every part of if It's so versatile (dough, sauce, toppings!), Great fun to make yourself if you have time and super-fast to buy to from someone else.

What is the most fun thing you've done?

Getting lots of friends and family together for a big videogame karaoke night for my 30th birthday to live out teenage music fantasies was one of the happiest days I've felt. Hobbies can be left behind as you grow up so was special to still find the joy in making music with people, even if it's faked.

If you had 3 wishes for yourself what would they be? - be honest!

To easily keep in touch with friends, scientists tend to spread across the globe with time. A house (being a grown up is boring sometimes). The security to be able to keep working in research as long as possible!

Tell us a joke.

Q: Why was the scarecrow awarded a Nobel prize? A: Because he was outstanding in his field.
My profile link:
https://ias.im/u.212945
---
---