Profile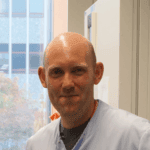 Patrick Lewis
My CV
Education

Royal Latin School, Buckingham; University of Manchester, University College London

Qualifications

Work History

In America for the Mayo Clinic and the National Institutes of Health, here in the UK at UCL and the University of Reading

Current Job

My university:

University of Reading
About Me:

I'm an academic researcher at the University of Reading School of Pharmacy

Read more

I'm a researcher and lecturer at the University of Reading, and live in Reading with my wife and two daughters (aged 2 and 4 – as you would expect they keep me on my toes). I've moved around the world a fair bit, living in Fiji, Florida and in Washington DC at various points in my life. I love cooking, and am trying to win my daughters over to cajun and creole recipes like gumbo and jambalaya – with some success I might add! When I am not out and about with my family, I try to keep up my fitness by taking part in triathlons. And I would emphasise the "taking part" rather than "competing in". This is me taking part in the Alpe d'Huez triathlon (look it up, it is quite hilly):

I was quite tired at this point.

My Work:

I work on Parkinson's disease, trying to understand how changes in your DNA can cause brain cells to die.

Read more

My lab works on Parkinson's disease, trying to understand what causes cells to die in the brains of people who develop the disease. Most of what my group does involves taking genes that we know are linked to Parkinson's and looking at what happens when we fiddle around with these genes in human cells or in simple animal models like the nematode worm c.elegans (a tiny worm that can be used to study genetics in the labs). This is me and Kim, who was student in the lab, looking at some of the cells that we use.

And this is what they look like under a microscope!

My Typical Day:

Engaging in crowd control while getting my daughters ready for nursery, and then who knows what the day will bring in the lab!

Read more

So the start and finish of my typical day are very predictable, involving my wife and I waking up and getting our two daughters ready for nursery. This sometimes goes well, and sometimes not so well. We're very fortunate to live close to the University, and the kids nursery is on campus (where my wife, who works for the NHS as a psychologist, also has her clinics), so we can drop them off on the way to work – and as anyone who has been to the Reading campus can testify to it is a really pretty place:

I then go into the lab, and thats when things get a little unpredictable. I could be helping out my graduate students with their experiments, or writing a scientific paper. I have lots of Skype calls with the other scientists and students that I work with around the world (I have two students over in  America at the moment), and also teach pharmacy to the students here at Reading. So lots of different things! At five fifteen on the dot I have to leave the office and head over to collect my daughters – we get in trouble if they are collected late – and then back home to have some tea and start the often quite protracted process of putting the children to bed. Most nights I try to do a little bit of work in the evening, things like writing papers or grants, just to keep on top of things, but also fit in a bit of TV to relax a little. We're currently watching the Danish drama "Ride the Storm", which can be quite intense so not really all that relaxing.

What I'd do with the prize money:

livestream an open event in my lab with school students and people with Parkinson's

Read more

If I were awarded the prize money I'd live stream an experiment from the lab during an open day with local school students and people who have Parkinson's. We won't know the results of the experiment, so even I won't know what to expect!
My Interview

How would you describe yourself in 3 words?

Always incurably curious

What or who inspired you to follow your career?

Lots of people, but mostly the challenge of unanswered questions.

What was your favourite subject at school?

Probably history

What did you want to be after you left school?

A soldier

Were you ever in trouble at school?

Occasionally, most notably around not doing my homework

If you weren't doing this job, what would you choose instead?

A gardener

Who is your favourite singer or band?

The Clash

What's your favourite food?

Jambalaya

What is the most fun thing you've done?

Meeting my daughters for the first time ever

If you had 3 wishes for yourself what would they be? - be honest!

Having more hours in the day (mainly to spend more time with my two beautiful daughters), being able to swim everyday, not having to continually apply for research funding

Tell us a joke.

One from Tim Vine: "I had a dream last night that I was cutting carrots with the Grim Reaper – dicing with death."
My profile link:
https://ias.im/u.212943
---
---