Profile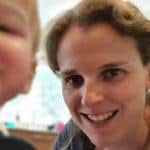 Rebecca Moon
My CV
Education

University of Southampton: Bachelor of Science (BSc), Bachelor of Medicine (BM), Doctor of Philosophy (PhD).

Qualifications

Current Job

Speciality trainee in paediatrics

Name of MRC-funded unit/centre/institute:

MRC Lifecourse Epidemiology Unit
About Me:

I'm a juggler: hospital doctor, clinical researcher and mum!

Read more

I am a children's doctor and also do research aiming to improve the health of children and young people.  When I'm not at work looking after children in the hospital or doing research with children, I am spending time with my own two small boys.  We like being outdoors getting lots of fresh air, building huge duplo towers, and I know far too much about peppa pig!

My Work:

Doctor for children and young people and researcher trying to improve childhood bone health, reduce fractures and obesity.

Read more

I am training to be a children's doctor (paediatrician), this takes 10 years after your have finished medical school (don't worry, this is on the job training so you get paid to do it!). During this training I have also taken extra time to do some research and I recently finished doing a PhD (a really long detailed piece of research).  My interest is in children's bone health (how to prevent broken bones), obesity, vitamin D (the sunshine vitamin), hormones, and whether we can improve long term health by altering diet and maternal health during pregnancy.

In my research I work with adults and children who have agreed to take part in the study, and usually involves taking detailed measurements of their body shape, filling in questionnaires and doing scans to look at their bones.  Some people are happy for mento take a small amount of blood also so we can analyse it in the lab.

Research generates lots of data, and I spend a lot of time analysing this and then trying to work out what is going on in the body to give us these results.  Doing the analysis is always quite exciting as you never know what you might find, and it's not always what you expect.

Read more

At the moment I am working in the hospital and do some research in any spare time.

At the hospital I spend the day looking after children who come in unwell or seeing patients in the outpatient clinics.  There has to be a doctor in the hospital at all times so some days I have to work in the evenings or go to work overnight instead of during the day. This usually means I get a day off in the week instead though.

In the evenings I play with my children, get them to bed, and then will often do some of my research work. This might be doing some analysis, writing up the experiments or preparing presentations to give to groups of scientists about what we have found.

Read more

My research involves children and young people.  We always explain in detail what the research involves as they have to agree to take part, and it would be helpful to have some videos what happens during the visits to show to them.  These videos could also be used as science fairs and during our local "meet the scientist" face to face sessions that we do.
My Interview

How would you describe yourself in 3 words?

Determined, adventurous, holiday-lover!

What was your favourite subject at school?

Maths

What did you want to be after you left school?

I always wanted to be a doctor

Were you ever in trouble at school?

No, I was always really good. I wanted to be a doctor and was determined to achieve that.

If you weren't doing this job, what would you choose instead?

Travel agent

What's your favourite food?

Chocolate!

What is the most fun thing you've done?

Walked to Everest Base Camp (at times it was hard work and really didnt seem that fun, but other times it was truly amazing!)
My profile link:
https://ias.im/u.212941
---
---