Profile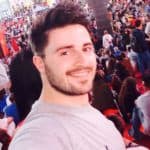 Ross Hill
Really enjoying the MRC Festival so far, lots of great questions!
My CV
Education

University of Bristol (BSc) & University of Cambridge (PhD-current)

Qualifications

BSc: Cancer Biology and Immunology with Year in Research PhD: Molecular Genetics and DNA repair

Work History

2010-2013: Bar staff/Cocktail maker June 2013 – Aug 2013 Harry Smith Vacation student: Studying the causes of meningitis at the University of Bristol Aug 2013 – Aug 2014 MRC National Institute for Medical Research: Studying the parasite that causes malaria, Plasmodium Falciparum. Oct 2014 – Jan 2015 Honours Project: Investigating the underlying causes of colorectal cancer. Oct 2015 – Now: Cambridge Cancer Centre PhD Scholarship: Investigating how DNA repair helps preserve fertility in mammals.

Current Job

Name of MRC-funded unit/centre/institute:

MRC Laboratory of Molecular Biology

My area
About Me:

Generally enthusiastic geneticist =D

Read more

Hello! My name is Ross and I'm a 26 year old scientist living in Cambridge!

My interests include the natural world and natural history (David Attenborough = BAE), cooking delicious foods, EATING delicious foods and trying to keep fit (because of all the delicious foods…)

When I'm not working in the laboratory I spend a lot of my time outdoors, cycling around the beautiful Cambridgeshire countryside and growing my own fruits and vegetables.

Special Skill: I can quote all of Brooklyn Nine-Nine! "Cool cool cool cool cool"

Bad Habits: I work too much (My boss doesn't agree….)

Weakness: Chocolates (those delicious foods….)

My Work:

I'm a scientist studying how DNA is damaged and repaired in cells. Which is very important for Cancer treatments, fertility and evolution!

Read more

I am a geneticist, which means I study genes, and genes are made up of DNA.

But what is DNA? Briefly, DNA is a long, string-like molecule made up of 4 subunits (A, G, C, T). Each molecule of DNA can be over a 100 million letters long, takes deep breath… AGTCGATGCGTGATGCGCGCGCTATGAT…… you get the picture. And within the sequence of letters is the information needed to make you who you are.

Every one of us has our very own unique DNA (except for identical twins), which is what makes us who we are and is part of what defines us as individuals. DNA is often referred to as the blueprint of life as it contains the instructions to make us (and all other living animals and plants on Earth) who we are.

But where did your DNA come from? This is an easy question to answer, the DNA that makes YOU who YOU are came from your mum and your dad, and both of them contributed half of the DNA needed to make you.

Problem solved? I think not…

DNA is an incredibly impressive molecule, but it has a fundamental problem; it can be damaged, broken and mixed up. And given the precise sequence of letters (A, G, C, T) is important, any damage to the DNA could result in a new born baby having health problems.

My work is to help understand how DNA is damaged, how the damage is repaired and what are the consequences if damaged DNA cannot be repaired in germ cells. Germ cells are incredibly important as they are the only cells in our body that go on to form sperm in men and eggs in women. Germ cells are therefore ultimately tasked with passing genetic information from one generation to the next. It is thanks to these special cells that your parents were able to give you the genetic information that makes you who you are.

My Typical Day:

Coffee, begin experiments, coffee, finish experiments, coffee (notice the trend..?), analyse experiments, plan next experiments!

What I'd do with the prize money:

• Saving the only home we've ever known – How STEM can you be?

Read more

My proposal for STEM engagement is based around educating people to join a mass movement sweeping nations across the globe, to preserve the only home we've ever know, Earth. I will aim to provide experiences both in the classroom and outdoors highlighting the challenges facing our planet and all who call it home.

Humans have only ever had one home, a blue and green patchwork world once referred to as the Pale Blue Dot by legendry astrophysicist Carl Sagan. It is the only planet that we know of where life exists, every living animal, plant or organism ever observed by a human came from Earth.

We are perhaps the champion children of our mother planet, an intelligent and emotional species capable of manipulating the natural world for the betterment of mankind… And manipulate the natural world we have, but not for the good of our home.

Recent international reports have outlined the damage we have caused our natural world, the threat we pose to over 1 million species globally, and the future of our own race.

An education in STEM subjects is a wondrous experience and now more than ever we need young, bright and enthusiastic minds to challenge global policy, develop new technologies to combat global warming, to invest techniques to degrade plastics and ultimately preserve a planet we depend upon.

I have no doubt that people capable of achieving these goals exist in classrooms across the country, the big step is engaging them, inspiring them and stimulating them to embark on these journeys.
My Interview

How would you describe yourself in 3 words?

Cheery, Curious & Excitable

What or who inspired you to follow your career?

2 people stand out as true influencers dyring my career, first was my A-level biology teacher Mr Halliwell who really pushed me to pursue science at university. Whilst at the University of Bristol the head of my faculty, Dr Ann Pullen took the time out of her busy day to advise and guide me through the application process for PhD studies. I will forever be in their debts.

What was your favourite subject at school?

Biology - Because biology is beautiful

What did you want to be after you left school?

A dentist

Were you ever in trouble at school?

Occasionally, but what child wasn't?

If you weren't doing this job, what would you choose instead?

Teaching, I benefitted immensely from the people I was fortunate to have as teachers and would love to follow in their example.

Who is your favourite singer or band?

Dan and Shay

What's your favourite food?

Italian!

What is the most fun thing you've done?

Go-Kart racing

If you had 3 wishes for yourself what would they be? - be honest!

1. I would love to one day lead my own research group. 2. Live closer to my parents (Sadly there isn't much science in my home town) 3. Go exploring in the Amazon rainforest

Tell us a joke.

What's orange and sounds like a parrot? A carrot.
My profile link:
https://ias.im/u.212940
---
---