Profile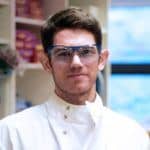 Ryan Beveridge
My CV
Education

BSc in Molecular Genetics in Biotechnology (University Of Sussex), PhD in Molecular Oncology (University of Sheffield)

Qualifications

Work History

Wellcome Sanger institute, University of Sheffied, Oxford Biomedica

Current Job

University of Oxford, Virus Screening Facility

Name of MRC-funded unit/centre/institute:

Weatherall Institute of Molecular Medicine

My area
About Me:

I am a scientist that helps design and make harmless viruses that can be used by other scientists to edit DNA and understand how the genetic code works.

Read more

I have worked in Oxford for five years now, before that I have worked and studied in Sheffield, Brighton and Cambridge (you have to follow the science!). My degree was at the University of Sussex and focused on genetics and disease, this gave me a deep interest that led to me doing my own research for a PhD at the University of Sheffield.

My PhD focussed on a particular way that cells can repair themselves if they are damaged. THis is really important diagnosing and treating cancer, because in many cases cancers develops when cells make mistakes in their DNA that are not fixed. We are moving to a new kind of medicine that understands that everyone's cancer can be different and require different treatments.

For this to work we need to understand how cells behave as best as we can and what happens when these cells start behaving in unexpected ways.

I live with my girlfriend and our two cats in a village just outside of Oxford. My main interests outside of work are keeping fit (I enjoy a good bootcamp), reading, music, cooking and spending too much time washing my car (it's relaxing, honestly!).

My Work:

I help researchers edit DNA, allowing us to understand what different parts of it do.

Read more

I joined the MRC Wertherall Institute for Molecular Medicine (MRC WIMM) two and a half years ago to set up a facility that helps other researchers do their experiments and understand better how DNA works.
DNAis basically the instruction book of life. Every cell contains a complete set of instructions which allows it to make and control all of the components it needs to grow and deal with the challenges it is faced with. For a few years now that we know the code of this book, i.e. all of the letters of the code. But we don't really understand completely how these letters are organised into 'words' or 'sentences' and what is the instruction that those words and sentences tell the cell.
I use a relatively new technique called CRISPR/Cas9 (sometimes described more generally as 'genome editing') to find out more about the DNA code. CRISPR/Cas9. is a technique that uses a set of molecular scissors that have a tag on them that tells them very precisely where to cut in the DNA When they make this cut, the cell panics and tries to repair the break, and while doing that sometimes cuts out some small bits of code to the right and left of the cut.
If you imagine you have a book and a pair of scissors that can only cut at a specific set of words and in doing so would remove some of the words in that sentence. For example the sentence:
'The child's dog would play with the big red ball'
Imagine that the scissors cut exactly between 'would' and 'play':

The child's dog would | play with the big red ball'

The cell tries to fix this cut, and in the process cuts some of the words so this sentence could become:

'The chilth the big red ball'

Which makes no sense. But can actually be really useful!

By changing the letters so that the instructions become useless, the cell can no longer make that component. By seeing what happens to those cells we can try to work out what the instruction meant in the first place. It might be an instruction for a really important component, without which the cell can't grow, but it might also be one that is only needed in certain situations.

For example, imagine that the cell is the factory production chain of a bicycle. You can mess up each bit of the instructions at the time and see what kind of bicycle you get at the end. Is it missing its wheels? Is it just missing the bike lights? That tells you something about the bit of code that you messed with. But is not as easy as saying as 'instruction A = a bike wheel'. If you think about it, a bicycle may come out of the factory without wheels for many reasons. Maybe the wheels were not delivered. Or maybe the workers who install the wheels are not working. Or maybe a really important screw is actually the one that isn't working, and so the wheels cannot attach. The DNA code is very long, and cells are much more complicated than bicycles, so it is a long process!

I help scientists work out the instructions of DNA in the cells they are interested in by using viruses. Don't be worried by the word virus, the ones I make are harmless and don't cause disease! We have modified them so that they have inside them whatever type of molecular scissor our scientists are interested in. The viruses help deliver the molecular scissors, and the scientists then observe what happens to the cells. It takes quite a lot of experience to make these special viruses and to know what kind of molecular scissor they should use.

This is my job, I help researchers to design experiments that allow them to see which instructions are important and in which situations.

My Typical Day:

My work revolves around tissue culture, a way of growing cells outside of the body.

Read more

I use human cells that have been adapted to grow outside of the body as mini-factories.  I put millions of these cells on to petri dishes which they stick to and cover them in a special liquid that allows them to grow.

Once I am happy they are happy, healthy and growing I need to give them instructions on what I want them to make. I do this by introducing DNA that tells the cells to make the viruses that I want to produce.  Yes, it is the opposite of what I described before! What I didn't tell you is that once you work out what the instructions are, you can manipulate it!

The process of getting DNA into cells is called 'transfection' and while it doesn't take very long it does take a few days for the cells to understand the information and start making the components I need.

A couple of days after the transfection my cells will have made a lot of the virus that I want and I can collect it and concentrate it by spinning it really, really, seriously fast. A car wheel at 60 miles per hour will rotate around 700 times a minute, to concentrate my virus I use a machine that spins 25,000 times a minute!

I then have to test how much virus I have made, most of the viruses I make contain an instruction to make the cell a certain colour (normally green or red). This makes it very easy to count the amount of virus I have made as I just have to put a known amount of virus on and known number of cells and count how many of them turn green or red.

When I am not hands on in the lab I am generally in meetings to discuss experiments, reading new research in my field or taking care of administration for the facility (sending bills, buying lab chemicals etc…)

What I'd do with the prize money:

Develop an interactive model to help explain how cells can sense a virus

Read more

A student within one of the labs of the institute has a great idea to help explain how cells can tell when they have been invaded by a virus. They want to design and making a giant interactive model of a virus made of plastic or wood, inside which you can put any DNA instructions that we want. We want to use these models when we go to schools to talk about our research.

I cannot take any credit for the idea but it would be great to be able to help them realise it.
My Interview

How would you describe yourself in 3 words?

Curious, calm, resilient

What or who inspired you to follow your career?

David Attenborough

What was your favourite subject at school?

Biology

What did you want to be after you left school?

Scientist

Were you ever in trouble at school?

No, except for detention for French. I was never very good at French.

If you weren't doing this job, what would you choose instead?

Zoo Keeper

Who is your favourite singer or band?

Metallica

What's your favourite food?

Lamb Tagine

What is the most fun thing you've done?

Exploring Cenotes in Mexico

If you had 3 wishes for yourself what would they be? - be honest!

To have the time to own a dog, a garden large enough to have its own obstacle course and of course an extraordinary car (my dream car is a GD T70)

Tell us a joke.

Some people say that firefighters deserve more money, but apparently a poll was taken and they all fell through a hole in the floor.
My profile link:
https://ias.im/u.212955
---
---