Profile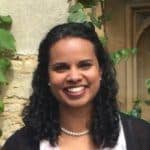 Shobhana Nagraj
My CV
Education

Stone School, Aylesbury High School, University College London, University of Cambridge; University of Oxford

Qualifications

I am a Doctor, I trained as a paediatric (children's) surgeon and also as a GP. I have a masters in research methods (Cambridge) and am doing my PhD in Oxford now. My qualifications are: BSc (Hons) MBBS MRCS MRCGP MPhil.

Work History

Waitress (weekend job) as a student at secondary school. English teacher for refugees (voluntary work as a student) Brixton, London. Medical Doctor and Surgeon in London, Oxford & Birmingham. Neonatal Intensive Care Doctor (Royal Children's Hospital, Melbourne, Australia). Research Scientist (Murdoch Children's Research Institute, Melbourne, Australia). Paediatric (Children's) Surgeon in Oxford, Malawi (Africa) & Birmingham. General Practice (GP) doctor in Cambridge & India.

Current Job

I am a PhD student at the University of Oxford

Name of MRC-funded unit/centre/institute:

The George Institute for Global Health, Nuffield Department of Women's & Reproductive Health, University of Oxford

My university:

University of Oxford
About Me:

I am a doctor, trained as a surgeon and a GP, now doing my PhD in Oxford.

Read more

I live in Oxford and am a member of the Oxford University African Choir – and have learnt to sing in Swahili, Sotho, Zulu and Ghanaian!  I love travelling and love being out in nature. I have lived and worked in rural India – spending 6 months in a jungle with wild elephants, and 6 months in the Himalayas on the banks of the Ganges river.  I have also worked in Malawi and Kenya, Africa, and got to see magnificent wildlife up close!  I have been a vegetarian all my life. I love Indian and Italian food.

My Work:

I work with doctors and village healthcare workers in rural India to help identify pregnant women with complicated pregnancies using mobile technology.

Read more

I am a doctor, now doing my PhD in Oxford. My research involves using affordable mobile technologies to train and support female health care workers in rural India, where there are no or very few doctors. I work with pregnant women and their newborn babies and support village health care workers to look after these women and their babies in their villages, together with their nearest doctor.

My work investigates the ways in which technology can be used to strengthen the delivery of healthcare in rural settings. I also investigate the links between pregnant women who have high blood pressure, high blood sugar, and anaemia (thin blood), and their long-term risks of getting heart disease, diabetes and stroke.

My Typical Day:

Early calls around the world to engage the team of developers and coders in Sydney and India. Reading, writing, travelling, interviewing pregnant women and doctors, eating, sleeping, singing, fun… and it starts again.

Read more

In India, I travel into the field (rural areas) and meet with healthcare workers.  We try out new versions of the technology I am developing and I get their feedback on using this.  We also discuss the challenges and improvements that could be made in terms of the local health system.  I return late, pretty exhausted, read through my work, make my field notes and sleep.

In the UK, I work with an international team across Australia and India and UK.  We can only have calls early morning to meet all three time zones.  We discuss the technology that we are developing, and I provide the doctor-input for the coders and android developers to work with.  We are a team.  I meet and teach medical students in global surgery.  I attend talks and training held at the university and I write up my fieldwork and read a lot +++. I design and write-up the research protocols and studies that we are doing, and design training materials for the local doctors and village healthcare workers.  I communicate almost daily with the team in India, both in the office and in the field, to ensure everything is running well on the ground.

What I'd do with the prize money:

Comic Book Workshop on Women's health for the village teenagers and women in rural India.

Read more

In the areas I work in rural India, young women often don't have a voice or the language and writing skills to be able to effectively communicate their needs to people in authority.  One way of overcoming these barriers is through drawing and story-telling.  I would like to hold an interactive workshop in partnership with World Comics International in one rural area of North India, to engage the village girls and women in a comic book workshop, to learn more about their priorities in terms of healthcare provision in their areas and the challenges faced by women in particular.  The result of this three-day workshop will be a comic book of ideas for women's health and empowerment in the villages, made up of comic strips developed by each of the village women. We will then share the comics and illustrations and stories with the relevant authorities to help address the challenges facing women in these areas, through both the artwork and through role-plays of the comic strips.
My Interview

How would you describe yourself in 3 words?

Enthusiastic, Dynamic, Cheerful.

What or who inspired you to follow your career?

I have met lots of inspiring people on my path. I think Mahatma Gandhi's teachings have always inspired me to be a better person and emphasised that service to others is important. Being a doctor, you get to serve people everyday and think about others instead of yourself.

What was your favourite subject at school?

Art

What did you want to be after you left school?

A brain surgeon

Were you ever in trouble at school?

When I was 7, I got told off for talking during morning assembly, and had to sing a hymn by myself in front of the whole school. It was embarrassing!

If you weren't doing this job, what would you choose instead?

I would be a vet.

Who is your favourite singer or band?

Coldplay

What's your favourite food?

Butterscotch ice cream

What is the most fun thing you've done?

Travelled on the back of a motorbike through the Himalayan mountains, it felt great!

If you had 3 wishes for yourself what would they be? - be honest!

To have more self confidence to unapologetically live my dreams; to have been strong enough to believe in my abilities and ignored the bullies; to have more time to spend with people who make me happy!

Tell us a joke.

What has four legs, is green and fuzzy and could kill you if it fell out of a tree? .... A snooker table!
My profile link:
https://ias.im/u.212953
---
---