Profile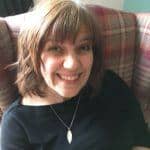 Shonna Johnston
Flow Cytometry Facility Manager: I run a shared resource lab to support the research.
My CV
Education

Forrester High School, Edinburgh and The University of Edinburgh

Qualifications

8 'O/S' grades, 5 Highers and a BSc (Hons)

Work History

I have worked in several technical positions at The University of Edinburgh since graduating, apart from 6 months at the NHS Research facility.

Current Job

Flow Cytometry Facility Manager
About Me:

I'm an outdoor science geek mum who likes to be creative.

Read more

I live in Bonnyrigg, which is just south of Edinburgh, with my husband, 2 children and our crazy black cat.

I love being outside.  I have a summerhouse at the bottom of the garden where I keep all my art stuff.  I'm not very good at gardening but I like to pretend I do!

I like to watch/read crime dramas and novels, especially the recent series of 'Line of Duty".

I'm really good at Candy Crush.

My Work:

I manage my Instititute's Flow Cytometry Core Facility. This technology is used to analyse and sort cells.

Read more

The core facility I manage is located across 2 labs and houses equipment costing in excess of £1.5M.  Facilities tend to come about when the technology and the experience required to run the technology well, is too expensive for just one research group to keep going.  There are 3 people in my team and the technology we work with is called flow cytometry.  This technology is used to identify cell populations and can even sort them.  Essentially our body is made up of different cell types which have different functions and they have different markers on their surface.  We can bind antibodies to these markers and add coloured dyes to the antibodies.  We then use a fluid system to introduce the cell samples into the body of the instrument, which also contains lasers.  These excite the dyes and the resulting light information is picked up by detectors which then relays the data to a computer for us to analyse.

It's an amazing mix of biology, chemistry and physics.

Working in a core facility is a really interesting area of research as we get to meet lots of researchers and assist in many different projects.

My Typical Day:

My daily workload is really varied. From cutting edge science to business plans, event organisation to emptying bins.

Read more

My working day is rarely typical.  As Flow Cytometry facility manager, it's my team's responsibility to ensure that the facility equipment is working well.  Therefore, our first duty each day is to switch on and QC all our instruments. This usually takes about 1 hour, assuming that everything passes OK.  Often, we have to arrange for engineer visits, either for system maintenance or for repairs.

We also ensure that the lab housekeeping is done – ordering, filling up consumables and emptying liquid and solid waste.

E-mails then need to be answered. We have an online booking system for cell sorting and assistance requests.  These requests are submitted to a facility e-mail account and booking allocated to our online diaries.

Next is usually training sessions or user meetings.  We run both theory and practical training courses.

A lot of my day is dependent on the users bookings and patient samples and it's important that I am aware of recent advances in the field so that I can optimise experiments. Users rely on our expertise for their experimental plans.

As we are a stand-alone facility, I manage our lab's internal invoicing, and business plans while the team is currently looking at our sustainability position and "big data" processing.

Although we are a university academic facility, we are also open to commercial researchers and are involved with the Innovations team, setting up contracts for access.

Sometimes, I have to plan presentations for user meetings or organise inhouse seminars. I am/have been on committees for both the Scottish and UK Flow Cytometry Societies.  These provide an interesting contrast to my daily workload and are important for expanding my personal career development.

All in all, my days tend to be quite unique and best of all I never have to clock-watch.

What I'd do with the prize money:

Showcase Core facility Careers

Read more

Our lab is often a calling point during building tours – from school pupils to charity sponsors, politicians to HRHs.  It's an interesting stop because of the impressive equipment and the colourful data.  Plus lasers are always a talking point.  Core facilities are usually run by technical staff and it is an interesting and accessible career.  However, although most core facilities are open to public engagement, it is often difficult to convey a deeper understanding of the technology and their purpose within research projects.  I would like to work with the core facilities (flow cytometry, genomics, mass spectrometry, microscopy etc) in our institute/college to improve our ability to do this by introducing this to local schools and show this career possibility which has grown dramatically in recent years.  The average number of facility staff in core facilities in 1999 was 1 and now it is 4 and still growing.  I would use the prize money to create fun demo equipment and develop workshops for this purpose.
My Interview

How would you describe yourself in 3 words?

Calm, Logical and Determined

What or who inspired you to follow your career?

In P7, a high school science teacher brought a van de graff generator to my class. I thought it was the coolest (this was the 80s) thing ever. This was the start of my interest in science.

What was your favourite subject at school?

At school, I loved chemistry. I enjoyed watching/setting up chemical reactions. I never wanted to be desk-bound.

What did you want to be after you left school?

I always wanted to work in science but always thought you had to choose between biology, chemistry or physics. I had no idea I'd end up in a job that uses all 3.

Were you ever in trouble at school?

I was often sent out of Monday morning double French for talking too much (and not actually using French).

If you weren't doing this job, what would you choose instead?

I'd like to be an artist - or anything that involves lots of colour.

Who is your favourite singer or band?

I don't have a favourite but I do like American pop punk bands like Green Day and Good Charlotte. I also like Scottish bands Primal Scream and Twin Atlantic. My favourite song is Just a Day by Feeder.

What's your favourite food?

I love Thai food best when eating out but I enjoy cooking Spanish food especially churros and hot chocolate.

What is the most fun thing you've done?

White-water rafting after a hurricane in Virginia, US.

If you had 3 wishes for yourself what would they be? - be honest!

To be taller, more confident and richer.

Tell us a joke.

I'm useless at remembering jokes and even worse at telling them.
My profile link:
https://ias.im/u.212954
---
---