Profile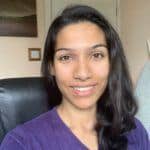 Thiloka Ratnaike
My CV
Education

Colchester County High School for Girls; Newcastle University

Qualifications

Work History

Milton Keynes University Hospital, Westbar GP Surgery, Oxford University Hospitals, Cairns Base Hospital (Australia), West Suffolk Hospital, Cambridge University Hospitals NHS Foundation Trust

Current Job

Paediatric Academic Clinical Fellow – currently working in a research placement during my training as a Paediatrician

Name of MRC-funded unit/centre/institute:

MRC Mitochondrial Biology Unit, Cambridge

My area
About Me:

I am a Sri Lankan doctor, who likes to cook for and feed everyone, chase after my 1 year old son, and try to practice meditation when I can!

Read more

I was born in Sri Lanka, I went to several schools because of having to move, and have been in the UK since I was about 9 years old. I work in Cambridge, and live 1 hour away, with my husband and our very busy 1 year old son. We love watching him grow and develop his curiosity about the world. We also love relaxing once the cheeky bean has gone to sleep. Our favourite programmes to watch when relaxing are Blue Planet, Brooklyn Nine Nine, and Star Trek: Discovery! I try to do a bit of compassion meditation whenever I get the chance as this is the best thing to help clear my mind.

My Work:

I am children's doctor currently looking at what happens to people when the batteries (known as mitochondria) in their cells have problems

Read more

My current work is mainly computer-based. I am trying to understand the different signs that patients may have as a result of a spelling mistake in the code (DNA) that helps make up the batteries (known as mitochondria) in their cells. These batteries or 'mitochondria' are the energy-generating packs of cells that make up the body, they are particularly concentrated in areas that need lots of energy such as in muscles/heart/brain/kidneys. These batteries also have their own code that helps them function – known as mitochondrial DNA, which is separate from the cell's code (DNA in the cell nucleus). There are patients who have spelling mistakes in the mitochondrial DNA which cause problems with how the mitochondria work, which leads to less energy  in that area of the body. I am trying to work out how to predict which patients with which spelling mistakes in their mitochondrial DNA have which problems!

At the same time I will be helping the team to look at a different part of the problem of disease caused by problems with the mitochondria, by doing a procedure called 'muscle biopsy' on patients who have consented for research. A muscle biopsy is where you take a little piece of muscle through a needle and fix this piece of muscle in something like wax in order for researchers to study the muscle. This is a picture of muscle tissue stained to look for healthy muscle fibres with happy mitochondria (brown fibres = healthy mitochondria, blue fibres = unhappy mitochondria due to a problem with their code).

My Typical Day:

Long commute (1.5hours) to work, 8.30am -4.30am at work, back home in time for son's bath time!

Read more

Wake early, hopefully before 1 year old wakes up. Morning offerings to the Buddha and 10-15 mins of prayers. Off to work (1.5 hour commute). Spreadsheet work, learn how to use code, attend a clinic to see patients or spend time teaching medical students on how to examine children, attend lab meetings. Back home for about 5.30-6pm in order to have some play time with son! After son goes to sleep, we have dinner and try to fit in some work before our own bedtime.

What I'd do with the prize money:

I would be keen to have the funding to set up a stall at the Science Fair and invite a couple of colleagues from the Mitochondrial Biology Unit, or be able to engage with local high schools in Colchester or Stowmarket where children may not get much insight into a career in research/clinical academia

Read more

I would love to engage with my old high school- the Colchester County High School for Girls, and set up some interactive work shops, invite colleagues from my lab to take part, and encourage a discussion about rare disease, research as a career, importance of international collaborations etc. I found that I did not have any understanding of research when I left school and I would love to change that for the current students. This would require funds towards travel costs for colleagues travelling from Cambridge, and funds towards materials used in the work shops.

It would be lovely to set up something similar closer to where I live which would be ideal, however, I would need to contact local high schools to understand their capacity for engagement in something like this.
My Interview

How would you describe yourself in 3 words?

Caring, enthusiastic, calm

What or who inspired you to follow your career?

My parents were my inspiration- I always admired my mum for knowing just what to do as a doctor, even in very unexpected situations. The main memory I have is when we found a beggar in the street who had fallen and injured his head- my mum took him inside immediately and knew exactly how to treat his wounds.

What was your favourite subject at school?

Art / Maths

What did you want to be after you left school?

A doctor

Were you ever in trouble at school?

Yes- in year 7- for arriving late most mornings during 2 weeks due to my car-share buddies also being late!

If you weren't doing this job, what would you choose instead?

I may be a volunteer for overseas charities, but I would always want to help by sharing knowledge somehow!

Who is your favourite singer or band?

Train/ Alicia Keys/ Beyonce/ So many individual songs- can't decide

What's your favourite food?

Sri Lankan Hoppers

What is the most fun thing you've done?

Water balloon fights with my cousins (the element of surprise was key), we all ended up soaked and crying with laughter

If you had 3 wishes for yourself what would they be? - be honest!

1. To be able to harness the power of my mind - achieve inner peace! 2. To have the knowledge of all Paediatric conditions and to give treatments to patients diagnosed with any condition, even the rarest. 3. To have a happy, peaceful and compassionate world for my son to grow up in.

Tell us a joke.

I am going to make like a banana..and split.. ...
My profile link:
https://ias.im/u.212936
---
---