Profile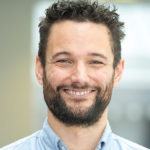 David Wilson
My CV
Education

High School of Glasgow (Secondary School), Edinburgh University (Undergraduate), Napier University (Post-Graduate), Edinburgh University (More Post-Graduate)

Qualifications

At school I did 7 Standard Grades, 5 Highers and 3 Advanced Highers. After Secondary School I did a Bachelor of Science with Honours in Developmental Biology, a Post Graduate Diploma in Biomedical Science and a Master of Research in Genetics and Molecular Medicine.

Work History

My first real job was as a Biomedical Scientist in Pathology for the NHS then I worked in Canada as Research Assistant.

Current Job

I am a Senior Research Assistant

Name of MRC-funded unit/centre/institute:

MRC Human Genetics Unit

My university:

University of Edinburgh
About Me:

I'm 37 years old and I live near Edinburgh in Scotland. I have a wife and wee boy who is 2 years old. I've been a working as scientist for 12 years.

Read more

I live just outside Edinburgh on the edge of the Pentland Hills with my wife, who is also a scientist. We have a wee boy who is almost 2 years old.

I grew up in Glasgow and moved to Edinburgh to go to university. After university I worked for the NHS as a Biomedical Scientist for 4 years.

In 2010 my wife moved to Ottawa, the capital of Canada, for a few years to work so I moved there too and worked as a Research Assistant in a big lab with lots of exciting research about skeletal muscle and how it repairs itself and what happens when this doesn't work properly.

When we moved home to Scotland in 2014 I got a job in Edinburgh also as a Research Assistant but working on a different research area, this time liver cancer.

I still work there but i'm about to leave my job to start a PhD in September. It'll take me 4 years to finish and will be a lot of work but, for me, will be a dream come true!

When I'm not at work our son keeps us very busy but I try and make time for my own interests. I like riding bikes, running up and down mountains and taking photos and videos of my adventures.

I believe that it's always the perfect weather to BBQ, the best books ever written are "The Lies of Locke Lamora" by Scott Lynch and "The Hitch Hikers Guide to the Galaxy" by Douglas Adams, "Local Hero" is the best comedy film ever made but "Blade Runner" is a more timeless classic and that Deadpool should be a member of The Avengers.

My pronouns are he/him.

My Work:

I'm a Research Assistant, I do experiments and help the other people in my team with their experiments. Our lab tries to understand why certain types of Cancer occur in the Liver. We're still learning but we hope that our work will help treatment of patients in the future

Read more

I work on a type of Cancer called Cholangiocarcinoma. It occurs in the Bile Ducts in the Liver. Bile Ducts are tubes in the Liver that carry Bile from the Liver to your intestines to help digest food.

Sometimes these tubes can become damaged or inflamed and when that happens your body tries to repair itself. We're trying to understand how it does that and what goes wrong when it doesn't manage to fix itself.

Sometimes, over a long period of time, this can lead to cancer but at the moment we're not entirely sure why this is. It's likely to be a combination of things like your genetics, mutations that might occur in the DNA of liver cells and lifestyle.

At the moment the only real treatment is to have surgery to remove the cancer and possibly a liver transplant. If we can understand why the cancer is happening and what the cells in the liver are doing then it's possible we can develop a treatment to help patients that have Cholangiocarcinoma.

You can read more about our Lab Group here: https://www.ed.ac.uk/mrc-human-genetics-unit/research/boulter-group

My Typical Day:

No day is the same! My day is filled with experiments, seminars, analysing results, having meetings, troubleshooting problems. Writing about science and having coffee breaks.

Read more

I cycle or run to work and try and get started by 8am.

A lot of my time is spent in the lab at my bench where I have my own space for doing experiments or in an office a share where I have a desk with a computer.

I use experiments to try and answer questions we have. Experiments can take anywhere from a day to several weeks to do and then you usually have to spend some time looking at the results and trying to work out what they tell you. Experiments always tell you something.

I do a lot of my experiments with cells that I grow in a dish. It's a bit like gardening, you have to feed and water the cells with the right nutrients and chemicals to help them grow properly.

I spend a lot of time thinking about the results I get in my experiments. I have to think about what they mean and how i can explain them to other scientists and people that aren't scientists. Communication is a really important part of my job, telling people about our results and the work we do is really important.

Once a week we get together as a lab group to eat cake and talk about the work we've been doing, what results we've got and if we're having any problems. It's a great opportunity to share what you've been up to and get some feedback on your work.

I have to finish and leave work by 4pm to get home and pick my son up from nursery.

What I'm doing for the MRC Festival:

We have two activities that school pupils should definitely consider if they're interested in finding out more about what we do.

Science Insights

Science Insights is an exciting work experience programme to give 5th year high school pupils insight into the work and life of research scientists.

The annual programme involves all five research institutes in the University's College of Medicine and Veterinary Medicine, providing access to its cutting-edge facilities and inspiring researchers.

Science Insights provides an opportunity for 40 high school pupils to spend a week of their summer holidays following a varied programme of activities on four different University of Edinburgh campuses, gaining a real insight into research and work in biological sciences, medicine and veterinary medicine.

https://www.ed.ac.uk/medicine-vet-medicine/outreach/science-insights

Doors Open Day 28th/29th September 2019

Members of the public will be warmly welcomed to participate in our Doors Open Day event with a rolling programme featuring:

A varied programme of presentations and videos in our Lecture Theatre
Guided tours
Hands-on activities

What I'd do with the prize money:

I want to build a YouTube/Twitch channel that explains what being a research scientist is like and explaining popular science stories you might hear about in the news in a way that is more understandable.

Read more

For a number of years now i've made short videos as a hobby, last year I vlogged my training over 6 months for the West Highland Way Race and published it on YouTube. I'm about to begin a PhD in Regenerative Medicine that will take me four years to complete. I'm keen to use video content, live streaming and podcasting to tell students about this adventure and continue making educational and inspiring content aimed at encouraging secondary school pupils to consider careers in science and technology.

I already have some of my own equipment to do this but I would use the prize money to purchase equipment aimed at improving the quality of my productions.
My Interview

How would you describe yourself in 3 words?

Creative, Enthusiastic, Supportive

What or who inspired you to follow your career?

I cant think of any one person, I get inspired by anyone that gets excited about stuff they do, it doesn't even have to be about science it's just cool to find people that are really enthusiastic about their own thing.

What was your favourite subject at school?

I was really interested in all kinds of science when i was at school but Biology was probably my favourite.

What did you want to be after you left school?

I've thought about being lots of things since I left school. Doctor, scientist, paramedic, brewer, video creator, running coach, bike mechanic.

Were you ever in trouble at school?

Absolutely, i've done my fair share of detention on a Friday afternoon.

If you weren't doing this job, what would you choose instead?

A Househusband, but my wife says I would just watch TV all day so i'm not allowed that job. The great thing about science is that you'll often develop a range of skills that make you suited to lots of jobs.

Who is your favourite singer or band?

My son likes to dance to Baby Shark all day long. I like things from folk to dubstep electronica and classical to metal but one band that will always find a place in any of my playlists is Biffy Clyro.

What's your favourite food?

I've recently been learning how to make my own pasta, it's surprisingly easy and pretty tasty!

What is the most fun thing you've done?

Last year I ran the West Highland Way Race. It's 96 miles long on the West Coast of Scotland, it took me about 24 hours to finish. It was a lot of fun!

If you had 3 wishes for yourself what would they be? - be honest!

I wish I was more spontaneous, more patient, and more flexible (I cant touch my toes).

Tell us a joke.

What does a Lion have for lunch? An hour, just like all the other animals!
My profile link:
https://ias.im/u.212956
---
---